About
If teachers are to prepare young people for the new world of work, and if teachers are to prime and excite young people to engage with careers designing and building our future AI ecosystems, then someone must train the teachers and trainers and prepare them for their future workplace and its students' needs.
In order to benefit from the potential advantages of AI – from personalised cancer treatment specified according to individual genetic profiles generated by AI to workplace automation that increases productivity – we must attend to the needs of education as a matter of urgency.
The nature of what needs to be done is summarised in Figure 1, which illustrates the elements involved in the AI and education knowledge tree. There are two key dimensions that need to be addressed:
How can AI improve education and help us to address some of the big challenges we face?
How do we educate people about AI, so that they can benefit from AI?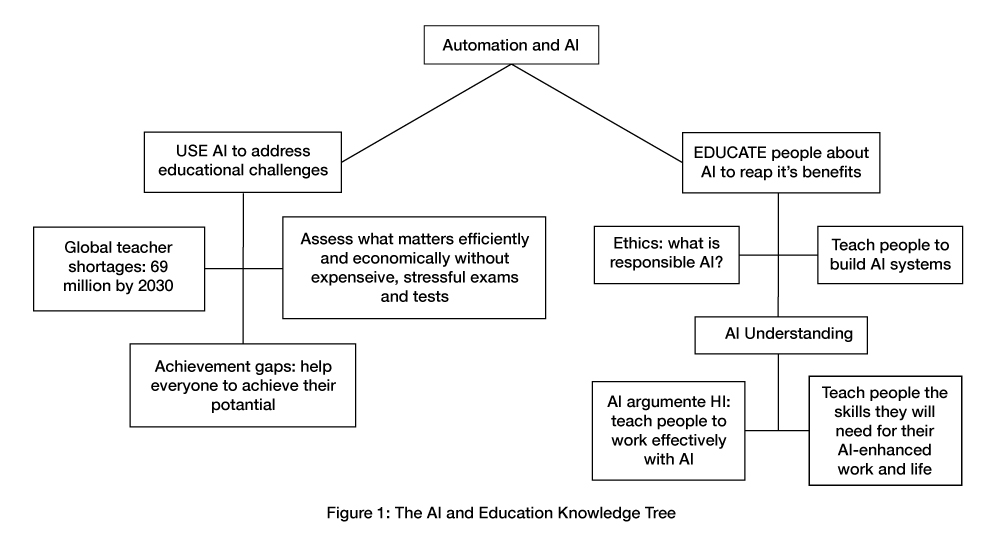 In this workshop you will be introduced to both of these dimensions in turn.
Who Should Attend?
Principals/ Executive teams
Deputy/ Assistant principals
Curriculum leaders
Education/system leaders

Why Attend?
To grow your understanding about AI and its impact on education
What To Bring?
It would be useful, although not essential to BYO laptop device, tablet or iPad. Wireless Internet is provided.
Agenda
8:30 | Arrival

9:00 | Commencement

9:00 – 10:30 | Session 1: Introduction to AI
Most people in countries where modern technology is widely used will be interacting with Artificial Intelligence (AI) through its many practical applications.The thoughtful design of AI approaches to educational challenges has the potential to provide significant benefits to educators, learners, parents and managers. But it must not start with the technology, it must start with a thorough exploration of the educational problem to be tackled
A clear specification of the problem provides the basis on which a well-designed solution can be developed. Only when a solution design exists, can we start to consider what role AI can best play in that solution and what type of AI method, technique or technology should be used within that solution. There is an obvious and important role for teachers in the pursuit of a problem specification and solution design. Without this enterprise, the technologists cannot design effective AI solutions to the key educational challenges recognised across the globe.
In this session we will explore some educational challenges in order to Identify some of the underlying problems that we might address through the careful design and application of AI.

10:30 – 11:00 | Tea & Coffee Break

11:00 – 12:45 | Session 2: How AI is being used in Education at the moment.
We will explore some of the ways in which AI is currently being used in education and discuss what AI can contribute to teaching and learning to help students and educators progress their understanding and knowledge more effectively. For example, For example, Alelo.com has been developing culture and language learning products since 2005 and specialises in experiential digital learning driven by virtual role play simulations powered by AI. Carnegie Learning produce the software that can support students with their mathematics and Spanish studies. In order to provide individually tailored support for each learner the software must continually assess each student's progress. The assessment process is underpinned by an AI-enabled computer model of the mental processes that produce successful and near-successful student performance. Thirdly, UK-based Century Tech, has developed a learning platform with input from neuroscientists that track students' interactions, from every mouse movement and each keystroke. Century's AI looks for patterns and correlations in the data from the student, their year group, and their school to offer a personalised learning journey for the student. It also provides teachers with a dashboard, giving them a real-time snapshot of the learning status of every child in their class. We will test out some of these technologies and look at others to gain a better understanding of the current state of play.

12:45 – 13:20 | Lunch Break

13:20 – 14:40 | Session 3: Education about AI
The first is that everyone needs to understand enough about AI to be able to work with AI systems effectively so that AI and human intelligence (HI) augment each other and we benefit from a symbiotic relationship between the two. For example, people need to understand that AI is as much about the key specification of a particular problem and the careful design of a solution as it is about the selection of particular AI methods and technologies to use as part of that problem's solution.
The second is that everyone needs to be involved in a discussion about what AI should and should not be designed to do. Some people need to be trained to tackle the ethics of AI in depth and help decision makers to make appropriate decisions about how AI is going to impact on the world.
Thirdly, some people also need to know enough about AI to build the next generation of AI systems.
In addition to the AI specific skills, knowledge and understanding that need to be integrated into education in schools, colleges, universities and the workplace, there are several other important skills that will be of value in the AI augmented workplace. These skills are a subset of those skills that are often referred to as 21st century skills and they will enable an individual to be an effective lifelong learner and to collaborate to solve problems with both Artificial and Human intelligences.
In this session we will investigate how an AI education programme might be designed.

14:40 – 15:00 | Tea & Coffee Break

15:00 – 16:00 | Session 4: Implications for teacher training and professional development
If teachers are to prepare young people for the new world of work, and if teachers are to prime and excite young people to engage with careers designing and building our future AI ecosystems, then someone must train the teachers and trainers and prepare them for their future workplace and its students' needs. In this session we will explore what teachers need to know and how they might be 'skilled-up' so that they can face the AI that will be an increasing part of their work in the future.

16:00 | Conclusion